Portland Youth Dance will hold its auditions for the 2023/2024 season on Saturday, September 9th, from 1-3 pm at Casco Bay Movers Dance Studio.  Click here to register for the audition by September 7th. 
If you couldn't attend our Information Session for Interested Dancers and Caregivers, please email [email protected] for more information.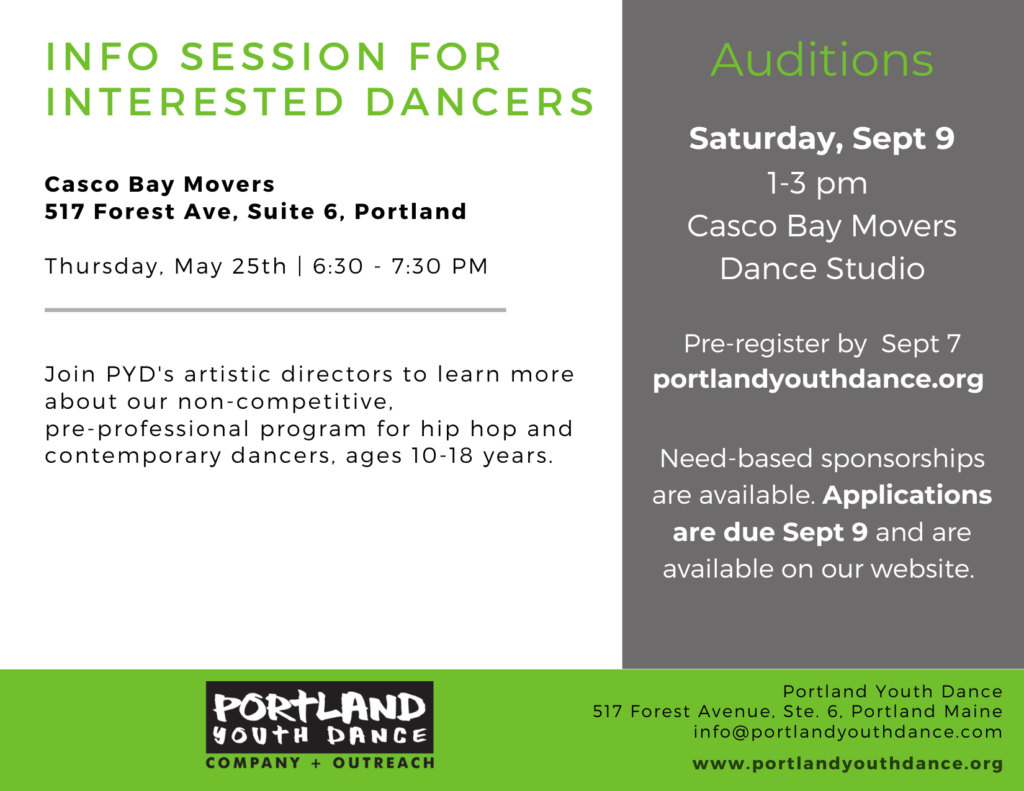 What is Portland Youth Dance?  Portland Youth Dance (PYD) is the resident youth company at Casco Bay Movers, offering pre-professional dance training to dedicated dancers ages 10-18 years.  PYD has three main tracks; Company which focuses on modern, jazz, and contemporary forms; Crew, which focuses on hip hop forms and PYD 2, a training company geared toward dancers 10-13 years. PYD was founded in 1998 as an alternative to competitive dance and is a 501(c)(3) organization run by a volunteer Board of Directors. PYD's robust community class program provides access to free dance classes.
Who can join PYD?  Dancers aged 10-18 who are passionate about their dance form, eager to create, work hard, and collaborate with peers.   In addition to the Company and Crew, we have a training group, PYD 2,  providing the opportunity for appropriate challenge, support, and growth for all students. Dancers do not have to be enrolled at Casco Bay Movers to participate in PYD.  However, they need to take equivalent classes at another studio to support their work in rehearsals.  More specific details can be found below.
How can I be a part of PYD?  Interested dancers are encouraged to attend PYD's free audition, which is held in the spring.
What does PYD cost?  Portland Youth Dance has separate tuition from classes at Casco Bay Movers.  PYD tuition includes regular, weekly rehearsals, guest choreographers, PYD workshops, costumes, tickets to professional performances, and travel for education when permitted.
PYD SPONSORSHIP
Portland Youth Dance also provides sponsorships for qualified PYD Company, Crew, and PYD 2 members. Sponsorships are granted yearly to one or several individuals who have auditioned for and been accepted into Portland Youth Dance and meet financial and personal criteria. The Board of Directors grants this each September and covers full or partial dues and fees for PYD membership. The sponsorship may cover the cost of a PYD-required class, though it is not guaranteed.
Company:  For high intermediate and advanced dancers, ages 12 & up, by audition.  The class requirement is at least one ballet class and two additional technique classes, such as modern, jazz, contemporary, hip hop, or tap, per week at Casco Bay Movers or another studio. Rehearsals are held on Saturdays from September to June from 12:30-4:30 pm.
Crew:  For intermediate and advanced Hip Hop Dancers, ages 12 & up, by audition. The class recommendation is one hip hop class per week and one additional class such as freestyle hip hop, modern, jazz, contemporary, or tap at Casco Bay Movers or another studio. Rehearsals from September to June will be held on Fridays from 4:00-6:00 pm.
PYD 2:  For beginning and intermediate dancers ages 10 & up.  Dancers will work in various forms, including hip-hop, modern, and jazz. One additional class is required.  Rehearsals from September to June will be held on Wednesdays, 3:30-4:45 pm.
For more detailed information, please visit Portland Youth Dance or email [email protected].