We love to celebrate birthdays at CBM!  The studio is generally able to accommodate parties on Saturday afternoons and Sundays.
We provide a dance class with a professional instructor from our staff, craft supplies for younger dancers, and instruction to fit the party's theme, goody bags, and set up/clean up.  We have a beautiful, wood-floor studio for smaller parties up to 10 children and a larger studio with a marley floor for larger groups up to 14.  Families are welcome to bring in decorations and cake.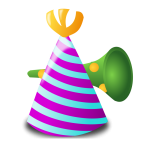 Birthday Party Request Form (to expedite scheduling)
Pay Birthday Party Deposit (to secure priority scheduling)
Here's How it Works
The following options and guidelines will help you to plan your child's birthday party:
OPTION 1: 90-minute Dance Imagination party for $195:
Recommended for young children, ages 3-6.  Includes a 45-minute dance class in a style of your choosing and 45 minutes for dance games, creating a craft to suit the chosen theme, goody bags, and time for sharing birthday treats. This choice requires a $60 deposit.
OPTION 2: 90-minute Hip Hop or Musical Theater party for $195:
Recommended for children 7-11.  Includes a 60-minute dance class in a style of your choosing, time for birthday treats, and goody bags. This choice requires a $60 deposit.
The first part of your party will include a dance class for the children. You may create your own theme or choose from the following popular themes:
Fairy Tales, Favorite Character/Superhero, or general Dance Imagination (for ages 3-6)
Hip Hop or Musical Theater Dance Party (for ages 7 and up)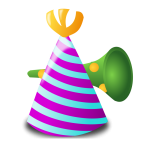 Children should bring a clean pair of sneakers for Hip Hop parties.
Parties and other studio events are often booked back-to-back so please plan to arrive no earlier than 15 minutes before your scheduled party and plan your departure for no more than 15 minutes after your scheduled celebration time. If you need additional time, please let us know when booking your party.
Call 207-871-1013 or email [email protected] for more information or to book your party.  A deposit will be required to secure your party date.  The balance will be due to the instructor on the party date.
Special themes or requests are arranged with the teacher who is providing the dance class. The teacher will contact you as soon as your party is booked.
Birthday Party Request Form (to expedite scheduling)
Pay Birthday Party Deposit (to secure priority scheduling)
---
TESTIMONIALS
I just wanted to write to express my thanks and appreciation for the wonderful job that Miss Julie did running my daughter Joanie's 4th birthday party at the studio today. The space looks gorgeous- we haven't been since our class ended in June- and everything was set up perfectly for the kids. Julie was so warm and welcoming of course, ran a great no pressure class for the kids and helped make the day so easy and effortless for us. There are a lot of kids who are particularly shy who felt instantly comfortable during the class. The parents were all raving about what a great party it was. We couldn't have been happier. Thank you!!!! ~Cara, Dov and Joanie

---

We had my daughter's 5th birthday party here and it was fantastic! For a very reasonable price, they have a dance class and also include craft time and goody bags for the guests. They give you lots of room and all of the kids really enjoyed it. Julie was a great instructor and she and her assistant were very helpful, friendly, and attentive to the kids. I would definitely recommend Casco Bay Movers as a birthday party venue. ~Lauren