Kate Marchessault
 Artistic Director, Owner | Young Dancers Program, Jazz, Ballet, Modern
Kate Marchessault has been on the faculty of Casco Bay Movers since moving to Maine in 2000. She holds undergraduate degrees from the University of Massachusetts at Amherst in Dance and Psychology.  Kate trained extensively at Alvin Ailey American Dance Center, Walnut Hill School for Performing Arts, and with masters such as Adrienne Hawkins, Fred Benjamin, Milton Myers, Lynn Simonson, Sam Kurkjian, Coleman/Freedman, and Jeannette Neill. Performance credits include Adrienne Hawkin's Impulse Dance Company, Perla Furr's Choreographer's Group, Ram Island Dance Company, Art Moves Dance Company, and Rhythm Factor Dance Company.  She has taught, choreographed, and performed in New York, Brazil, Boston, and northern New England. In addition to sharing her love for dance at Casco Bay Movers, Kate teaches jazz dance at Bates College , teaches modern dance at Southern Maine Community College, and serves as Artistic Director of Portland Youth Dance Company. She is certified in the Simonson Method of Training,  Progressing Ballet Technique, and she completed a 200-hour yoga teacher training and is working toward her comprehensive certification in Pilates through the Kane School.  For many years, Kate has been involved in the training of young dancers in preparation for performing and teaching careers. Her broad range of dance vocabulary and passion for movement make her classes an inspiring experience.

Isabel Ball
Contemporary and Improvisation
Isabel Ball (she/her), is a contemporary dance artist currently based out of Portland, Maine. She grew up in the Chicagoland area, where she studied dance at the Chicago Academy for the Arts. After graduating with an honorary dance award, she moved on to complete her BFA in Contemporary Dance Performance with a minor in Psychology from the Boston Conservatory at Berklee. In 2020 she joined little house dance company under the direction of Heather Stewart. Since moving to Portland, she has developed her own teaching practice, offering a creative movement-based class to studios throughout the city. Isabel continues to develop her interests in improvisation, performance, and teaching.

Veeva Banga
Afro Beats and Hip Hop
Veeva Banga is a South Sudanese dancer. She has a passion for sharing her cultural dance with people locally. She's taught at local studios like Hustle and Flow Studio, Bright Star World Dance Studio, Living Room Dance Collective, and Portland Youth Dance, and is thrilled to join the faculty of Casco Bay Movers.  https://www.veevabangadance.com/
Vanessa Beyland
Jazz, Ballet  & Musical Theater 
Vanessa Beyland holds a BFA in Dance from NYU's Tisch School of the Arts. In addition to teaching at CBM, she is currently on staff at the University of Southern Maine, Portland Ballet, and Portland Arts and Technology High School (PATHS). Her performing and choreography credits include work in the Northeast with school, community, and professional companies, including Portland Ballet Company, PORTopera, Dramatic Repertory Company, Stages, Lyric Music Theater, School House Arts, Windham Center Stage, USM, and others. A member of Portland Ballet Company from 2002-2011, she is now a guest artist with PBC and is excited to share her love of dance with those at Casco Bay Movers.
---
Laurie Chiasson
Tap
Laurie Chiasson has been a faculty member of Casco Bay Movers since 1989. She first danced as a young child in Connecticut with a former Rockette, Jane Hart. Beginning in the early 1980s, she began taking jazz classes with Sheila Bellefleur and continues to this day! Laurie studied ballet with Nancy Durham and took numerous jazz, modern and African classes and workshops with master teachers such as Luigi, Gus Giordano, Arther Hall, Eva Von Gencsy, Jeannette Neill, and Lynn Simonson. Also, it was during the '80s that she started tapping with Karen Marino and Billie Johnston in the company known as Portland Rhythm Tap. Laurie's passion for tap inspired her to continue her studies with Pamela Raff in Brookline Massachusettes as well as attend master tap classes with Lady Dianne Walker, Josh Hilberman, Germain Salsberg, Barbara Duffy, and she even survived a class with Savion Glover!
From 1984 to1990, Laurie owned and directed her own studio in Augusta, Oak Street Dance. She has taught and performed extensively throughout New England with Casco Bay Movers Dance Company, Rhythm Factor, and is the founder and artistic director of Rhythm and Sole Tap Dance Company which was established in 2007; dedicated to traditional and contemporary tap. In addition to her dance career, Laurie is an artist and educator. She graduated Magna Cum Laude from the University of Southern Maine with a B.F.A, completed the prestigious E.T.E.P. program, and received her Masters in Education in Teaching and Learning. Laurie currently teaches art for the Gorham school district. She lives in Portland with her husband, Larry, and son, Noah.
Teall Dibiase
Hip Hop and Acro
Teall Dibiase has taught and performed dance and gymnastics throughout Greater Portland for several years.  She is creative, energetic, and enthusiastic, making her classes a joyful experience for all. When she is not teaching or training at Casco Bay Movers, you can find her at several local studios and gyms, including Maine Academy of Gymnastics and RHL.
Emily Getchell
Contemporary & Adult Repertory
Emily Getchell brings over 15 years of teaching experience with her to CBM, specializing in modern, jazz, and contemporary dance. She has had a lifelong appreciation for dance, wellness, and the arts and is passionate about helping students grow in their technique, performance quality, and love of movement. In addition to her dance training, she has completed a 200-hour yoga teacher training and is currently working as an Integrative Health Coach, Doula, and Financial Adviser. Growing up in Pennsylvania, Emily trained with the Harrison Dance Studios and The Rock School of the Pennsylvania Ballet and received a full scholarship to the PA Governor's School for the Arts with a ballet concentration. Emily has performed with the West Chester University Alumni Dance Association, Contempra Dance Theatre, Village Productions, PA Academy for the Arts, Loose Screws Contemporary Tap Company, and Melange Contemporary Company, joining them at the Ladek Zdroj International Dance Festival in Poland in 2010. Since relocating to Maine in 2010, she has performed with the Portland Symphony Orchestra, Terpsichore Dance, and Indiedanceworks.
Rose Hutchins
Ballet & Pointe 
Rose Hutchins is a Maine-based dancer, educator, and choreographer, and is the founder and artistic director of Ballet Bloom Project. Hutchins holds an MFA in Dance from the University of Wisconsin–Milwaukee, where she led an academic study to develop and test a somatic-based contemporary ballet technique curriculum designed to prepare today's ballet dancers more fully for the demands of contemporary ballet choreography. This research culminated with a choreographic work, Essence, which Hutchins completed remotely due to the COVID-19 pandemic. NEW STAGE, a documentary about dance artists in lockdown, featured excerpts of this piece along with Hutchins' reflections on the experience. Other notable achievements include Hutchins' work, Embark, performed at Regional Dance America/Pacific, and her award-winning choreography Degas. Hutchins also published "Sociopolitical Influences on the Creation of the Ballet Giselle" in The Journal of the Utah Academy of Sciences, Arts & Letters, receiving the distinction of "best paper" in the arts division.
---
Allie James
Modern and Contemporary Forms 
Alexandra James is a Southern Maine native, maker, mover, and mother.  As an independent artist, she's engaged with improvisation and interdisciplinary investigation, the interrogation of pedagogy and craft, seeking liberation through the integrity of embodied knowledge and the sharing of practice. In addition to her role at Casco Bay Movers, Alexandra serves as Bates Dance Festival's Director of Training Programs and is a professor of dance at Colby & Bates College. Her work has been presented in Chicago, New York, and South Africa, with a teaching practice that carries her nationally. She earned her BFA from the Dance Center of Columbia College Chicago in 2009.  Photo by Sèan Alonzo Harris.
Elizabeth Lau 
Hip Hop, Jazz, Modern, and Tap 
Elizabeth thrives on spreading her excitement and passion for dance with kids and adults of all ages.  As a lifetime student, she's studied ballet, jazz, modern, clogging and hip hop.  While earning a marketing degree and a dance minor from George Washington University, a love of hip hop was born at Culture Shock DC.  She was further inspired by teaching at-risk youth in the DC metro area.  Since returning to Maine in 2007, Elizabeth has taught throughout Southern Maine and continues her community outreach work with Mayo Street Arts, Boys and Girls Clubs, Learning Works, Free Summer Lunch, Slim Peace, and in Portland area schools.
Elizabeth is the founder of Portland Youth Dance's all hip hop crew, Dynamix, and the infamous event, The Exchange. She has taught Hip Hop at Bates College in Lewiston, Maine, and continues to train with top choreographers across the country. She loves to share the history and foundation of hip hop in her classes. Elizabeth is also a certified Leap n' Learn instructor, she uses the curriculum in her Dance Imagination class.
Elizabeth's youtube page: http://youtube.com/user/egoulet3
Scott McPheeters
Contemporary Forms
Scott is an Oakland, CA / Philadelphia, PA / Biddeford, ME-based performer, choreographer, and educator. He co-directs the dance and video installation company, Subcircle (www.subcircle.org) and Subcircle Artist Residency (www.subcircleresidency.squarespace.com) in Biddeford, ME. Scott holds theater/dance degrees from Dickenson College (BA) and Sierra Nevada College (MFA) and has taught all levels of Modern Dance and the Senior Seminar class at Temple University in Philadelphia from 2013-2017,  in addition to serving as a guest teaching artist at many universities including University of the Arts, Drexel University, Swarthmore College, Richard Stockton College, Dickinson College, Muhlenberg College, West Chester University.  https://www.scottmcpheeters.com/

Alycia Miner
Tap 
Alycia Miner is a passionate tap dancer and choreographer who studied in the greater Boston area. Although she studied many dance styles growing up, teaching and choreographing tap gives her such joy and fulfillment. Her choreographic pieces have received top recognition including choreography awards and top score placements. Alycia is a company member of Touché Taps, a professional educational tap company under the direction of Shaina Schwartz. As Captain of the company, Alycia had many opportunities to study, travel, and perform across New England including at the nationally known tap events Beantown Tap Festival and Jersey Tap Festival. She loves to challenge herself by continuing to learn from the tap masters around the world such as Sarah Reich, Lisa La Touche, Ian Berg, Josh Hilberman, and Ryan Casey to name a few. In addition to Touché Taps, Alycia has studied under Thelma Goldberg as a member of her advanced adult ensemble "About Time Tappers". Alycia graduated with a Masters in Data Analytics in 2020 and relocated to the Portland area with her family. Outside of dance, she is a Data Analyst at Covetrus in Portland, ME. Alycia is looking forward to sharing her love of tap in Maine!
Liz Mulkey
Contemporary Forms
Liz Mulkey is an independent choreographer, dancer, actress, and movement teacher. She is Los Angeles born and raised, was a bi-coastal artist for some time, and is now settled in Biddeford, Maine. Her work is inspired by nature's movements. She also investigates how we catch, morph, and release stories and roles that become physicalized in the body. She hopes her work will inspire others to get physical when words fail. Liz presents her original choreography as film, photography, and live performance. She's currently performing with SubCircle. For a decade,  she acted as part-time Faculty at the Dance Department of Loyola Marymount University, teaching pilates, yoga, Laban Movement Analysis, Improvisation, and Introduction to Choreography. Liz is grateful to join the teaching faculty at Casco Bay Movers. She's happy to share, in a braided form, the exercises she's learned over the years from wise individuals like Bebe Miller, Mary Overlie, and more.
---
Amanda Preble
Hip Hop
Amanda Preble is a hip hop choreographer and instructor based out of several studios in Southern Maine. She holds a Bachelors degree in Communications from Quinnipiac University in Hamden, Connecticut. It was at Quinnipiac that she developed her skills on the school's competitive hip hop team and served as a captain and a choreographer. Her performance experience includes nine consecutive seasons of dancing for basketball, including two years professionally for the NBA-D League. In March of 2011, she was a finalist for the New England Patriot's Cheerleaders. Amanda travels to Boston and New York City several times a year to continue her training in hip hop and other styles of dance. She has trained with the likes of Twitch, D-Trix, Sheryl Murakami, Neil Schwartz, and Chio.
Wendee Rogerson
Modern Dance 
Wendee Rogerson began her professional dance career at the age of thirteen, training with the Royal Winnipeg Ballet. As she discovered her passion for modern dance, Wendee went on to train and perform with The Toronto Dance Theater. In 1991 she moved to New York City to study with Risa Steinberg of The Jose Limon Dance Co. Wendee has been a member of The Carolyn Dorfman Dance Company ( CDDC ) for the last 15 years, touring the US and Europe and also serving as the rehearsal director. When Wendee is not dancing, she is a Pilates and fitness instructor and runs her own studio in Scarborough, Maine.
---
Rachel Schwartz
Dance Imagination, Pre-Ballet, Pre-Modern, Contemporary, Jazz, Tap, and Modern 
Beyond going nuts to Led Zeppelin LPs as a toddler, Rachel has studied and performed 
danced for over 30 years, including ballet, jazz, modern,
contemporary, and contact improvisation. She has studied with world-renowned teachers, such as Nancy Stark Smith, Ray Chung, and Kirstie 
Simson, and regularly travels to Boston for continued training. She spent
 2 years at Earthdance, an improvisational dance retreat center, where she 
began teaching contact improv and composition and has been a proud dancer
and choreographer for Collective Motion dance company since 2007. Rachel
 holds a Masters's Degree in Social Work from Boston College, is a trained 
transformative mediator, and has worked extensively with teenagers in the
 criminal justice system. She fosters creativity, individualization, and
confidence in her students, and trusts in the transformative healing
process dance can bring to people when given the opportunity. She still
 goes nuts to Led Zeppelin.
Kristin Sutton
Hip Hop and Tap                                                                                                                                                                        Kristin Sutton had performed and taught dance in the Portland area for over 25 years. She was a member of Rhythm and Sole Tap Company and Rhythm Factor, a Hip-Hop company based at Casco Bay Movers Dance Studio. Kristin founded Avant Dance in 2011 and started G-Tric Dance Crew, a hip-hop company that performed all over the state. Kristin is also the creator of the annual Thriller Throwdown, a zombie-inspired flash mob in Portland every October. Kristin is trained in tap, jazz, hip-hop, and ballroom.
Savana Swan
Young Dancers Programs
Savana Swan (she/her) grew up dancing at Casco Bay Movers and Portland Ballet and was part of Portland Youth Dance's Company for 5 years until she recently graduated from Portland High School. She's been teaching classes around the Portland area through Portland Youth Dance's Community Programs for the past 5 years, and assisting classes at Casco Bay movers for the past 4. Savana loves sharing her passion for dance with kids and is beyond excited to further her teaching journey at Casco Bay Movers this year. She will also attend Southern Maine Community College this year, majoring in elementary education.
Holly Taylor 
Ballet and Modern
Holly Taylor (she/they) is a dance educator, writer, and choreographer from Providence, RI. Her movement background includes modern, ballet, gaga, postmodern and site-specific composition, and various contemporary forms. She has trained with artists from Alvin Ailey American Dance Theater, Paul Taylor Dance Company, Trisha Brown Dance Company, and Urban Bush Women, among others, and has performed in original works by Matthew Rushing and Saar Harari. Her writing has been published in PAJ: A Journal of Performance and Art (MIT Press) and Yale Dance Theater Journal, and exhibited at AS220's Resident Gallery. Holly received her B.A. in American Studies from Yale University and M.A. in Performance Studies from NYU Tisch. She is currently based out of Portland, Maine. Photo by Duc Nguyen.
Bruce Tracy 
Hip Hop & Freestyle
Bruce Tracy's (aka Parkker) life changed when he was bit by a radioactive turntable giving him superhuman artistic abilities and some severe ADHD. The result is a juggler of many projects leading to careers in graphic design, dance instruction, and DJing to name a few. Some of these careers include staff member/teacher for USM, Bates College, Bowdoin College, and Portland Public Schools, playing music in the band Miravie, a 25 year DJ career, and project manager for high-end A/V company Tucker and Tucker. Under the monicker Thunder, he helped bring true hip hop into Maine being the 1st ever full-time hip hop dance instructor. He spends his free time with his family, mountain biking, drawing and creating comics, and playing in the band Sugarbox: a high-energy hip hop/dance band. His motto: "whether you think you can or you think you can't, you're right".
LarryLee Van Horne
Ballet 
LarryLee has been dancing since the earth was cooling. He has been associated with CBM for over thirty years, and Maine State Ballet for over twenty-five. Company credits include Atlanta Ballet, Ram Island Dance Company, Concert Dance Company of Boston, Ballet New England, Ballet Arts Minnesota, Zenon Dance Company, Minnesota Dance Theatre, and various pickup companies. He's worked with many modern, jazz, and ballet choreographers, and danced in countless dances of others as repertory companies were his career choices. He performed lots of contemporary and classical ballets, too. LarryLee is grateful and thankful just to be able to continue dancing.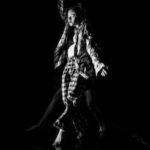 Hannah Wasielewski
Post-Modern
Hannah (she/her) is a dancer and somatic healer based in Wabanaki Territory/ Portland, ME. Her practice today is centered around contact improvisation, experimental contemporary dance forms, and healing through radical performance. GATEWAY/PORTAL is the platform for her dance teaching work in which the body is the transformative agent. Her class includes improvisation, floorwork, three-dimensional phrasework, nontact-contact improvisation, principles of embodiment from the healing arts, craniosacral sensitivity, and attunement to the fluid body. Formally based in the San Francisco Bay Area, she performed collaborative choreographies with Amy Wasielewski in several contexts. As a performer, she has worked with Sara Shelton Mann (CA/Europe), FAKE Company/Kathleen Hermesdorf (CA/Europe), Daiane Lopes da Silva(CA), Sam Stone(CA), and Sara Kraft/ KraftyWorks(CA) and was a company member with Kinetech Arts(CA) for two years. She's currently working in a collaboration with Kristen Stake (Living Room Dance Collective) here in Portland, ME.
Her work is a deep excavation and unification of her physical, emotional, and spiritual bodies. The seeking never ends.
---
Kate Whalen
Tap

Kate Whalen has been dancing since the ripe old age of 4  studying tap, ballet, and musical theater jazz. She studied with Spotlight Vermont, the Vermont Conservatory of Ballet, and the University of Vermont. She has taken master tap classes at Steps in New York City as well as with Lisa Hopkins, Jeannie Hill, Josh Hilberman, and Michelle Dorrance. Kate taught tap, ballet, and musical theater jazz at Spotlight Vermont for 14 years as well as tap at the Flynn Center for the Performing Arts. In addition to teaching, Kate has always been very active in theatre beginning with her first show in 1985. She has performed on stage in countless shows and has enjoyed the new challenges of being a director and choreographer, most proudly taking on those roles for Lyric Theatre Company's Mary Poppins in Vermont. Kate relocated to the Portland area in 2019 and is thrilled to share her passion and love of dance, especially the joy of tap, with her new community in Maine.
Martha James, Office Manager
Founder and Guest Faculty
Sheila Bellefleur
Founder of Casco Bay Movers Dance Studio and Guest Jazz Faculty
Sheila Bellefleur is the Founder (1981) and Artistic Director of the jazz ballet company Casco Bay Movers. With extensive training in jazz, her studies also have included Tai Chi Chuan, Mime, West African Dance, Ballet and the Alexander Technique with master teachers and choreographers in Europe, Africa, North and South America. Along with directing and teaching at the Casco Bay Movers Dance School, Sheila has taught at the University of Southern Maine, Bates College, Ram Island Dance Center, Universidade Federal Do Rio Grande Do Norte (Brazil), The American College of Greece, and The International Dance Project in Athens. In 1988, she received an Artist in Residence Grant from The National Endowment for the Arts through the Partners of the Americas to teach, choreograph and research dance in Brazil.
Sheila has served on the dance panel of the Massachusetts Cultural Council, studies anatomy for dancers with Irene Dowd in NYC, and is also a faculty member of the Coffee Mill Dance Studio in Key West Florida. Her instruction is based in ballet technique with a wide variety of jazz styles ranging from lyrical and cool to funk and blues.
Debi Irons
Guest Faculty
Debi Irons – contemporary dancer/choreographer/educator – is a Maine native. Mother of two adult sons, who has been dancing her entire life. She has choreographed, performed, and/or taught on both coasts of the United States, in Brazil and Japan. Her VariantJazz (contemporary) method of dance education combines technique with self-expression and creativity. She works all over the state of Maine, including at Bates College, and has had a studio for 24 years in Norway, called ART MOVES, also home to outreach performing and teaching programs of the same name.   Irons has danced for jazz musicians and worked with many artists, presently for Esduardo Mariscal in his LUZ; Back to Brasil with Daielma Santos & Art Moves Dance Co. was fun;    MID-LIFE RIOT with Santos and Sara Whale is a dream project. She is collaborating with composer Philip Jackson on  ACORDA! (wake up!) which began at Bates College in 2011 and has taken them across the United States and into Brazil so far – in search of an ideal