The following classes are offered on Saturday mornings at Fitness Success, located next to Rosemont Bakery at 94 Main Street in Yarmouth Village:
Dance Imagination for 3.5-5 years
Saturdays | 8:45-9:30 am
Pre-Ballet for 5-7 years
Saturdays | 9:40-10:25 am
Hip Hop Basics for 6-8 years
Saturdays | 10:30-11:15 am
SESSION DATES:  Classes are offered in 7-week sessions throughout the academic year.  $100/session
Session I: 10/26 – 12/14 (No class 11/30 – Thanksgiving break)
Session II: 1/11 – 2/29 (No class 2/22 – February vacation week)
Session III: 3/7 – 4/18
Session IV: 5/2- 6/13
Click here to register online.
Refund Policy: Tuition, registration fees, and costume payments are nonrefundable and nontransferable. Absence from class is non-refundable. We do allow make up classes due to student absence in another class of the same age or below.  Annual tuition payments are non-refundable as we have reserved the student's place in class for the full term. Full or partial refunds are granted as appropriate for medical conditions with a physician's note. 
---
Class Descriptions
Dance Imagination Sampler (3.5-5 years) introduces dance basics and inspires young dancers to express themselves through movement, developing their understanding of the art and technique of dance in an atmosphere of fun and purpose. Using concepts that are familiar to the child, movement is introduced which invites them to apply imagination, energy and coordination. Through creative play and imitation, children strengthen basic motor skills and self-esteem by learning what they can do. By exploring dance, music and language, the child's many facilities of self-expression are nurtured. Memorization improves because the elements of dance are identified and used in many interesting ways. Focus on form, technique and composition increases with age and ability within the curriculum. Training young dancers in this in-depth method develops body awareness, agility, rhythm, improvisation skills and creative thinking of a permanent nature while preparing for the more regimented study of ballet, jazz, modern and other related theater arts. More on our Young Dancers Program.
Pre-Ballet Sampler (5-7 years)  The elements of creative movement will be augmented by more coordination and sequence-related exercises; floor formations that teach children spatial awareness; movement exercises that emphasize straight legs and pointed feet, posture, placement, stretches and comportment of classical ballet. Basic ballet concepts such as 1st and 2nd positions, plié and relevé will be introduced. Fun, creative elements such as stories, games and other imaginative activities will keep the pace of the class lively and engaging.
Hip Hop Basics Sampler  (6-8 years) is designed to help children develop confidence, muscle strength, coordination, musicality and self-expression in a fun and exciting format.  Hip Hop is a fun and upbeat stylized urban class that focuses on personal style and expression. In this class, dancers are encouraged to let go and be free while developing their ability to groove to child-appropriate pop and hip hop music.  More on our Young Dancers Program.
About the instructor: Kelsie Steil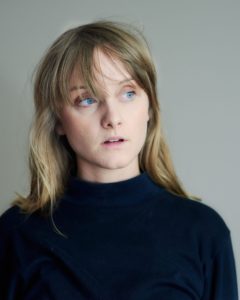 Kelsie Steil is a dancer, choreographer and outdoor educator living in the Portland, Maine area. She graduated from Plymouth State University with a Bachelor's in Adventure Education and Dance in May 2018. There she received the Contemporary Dance Ensemble Award for her achievements in choreography. Kelsie has had the joy of living, dancing and creating internationally; her most recent major work was a three-part film project based in Lithuania. She is grateful for where she started her creative life, which was in public school dance and theatre programs where otherwise arts education would be inaccessible to her. Knowing the powerful effects that dance and creativity had on her growing up, she often works with youth to help foster that experience. Here in Maine, she enjoys dancing, teaching and creating work regularly while working seasonally as an outdoor educator for Rippleffect. Her happy places are open studios, open seas and any place she can laugh and eat good food with good people.  https://kmsrandomdesigns.wixsite.com/movement