Wednesday, October 2nd | 7:15-8:15 PM 
Meracatú is a Congolese influenced dance style from the northeastern state of Pernambuco. It's origins date back to the 17 & 18th centuries. Maracatú is about honoring the religion, tradition, and contributions of Congolese royalty and their ancestors!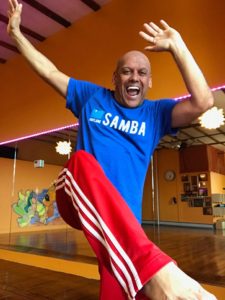 Beto Guimaraes was born in the historic town of Olinda(UNESCO heritage city), in northeastern Brazil. Olinda is a well know in the world for its vibrant Carnival. For the past 28 years, Beto has dedicated himself to the study, performance, and teaching of contemporary Brazilian dance. He has performed locally, nationally and internationally, including in the famous carnivals of Rio de Janeiro, Bahia, Recife and Olinda. Beto is well versed in a variety of Afro-Brazilian dance rhythms such as Samba, Frevo, and Maracatu!