NYC & LA Visiting Dancer and Choreographer
Over the past several weeks, CBM & PYD students of all ages have been fortunate to work with guest artist Garrett "Spaghetti" Minitti of NYC & LA. Garrett is the co-Artistic Director and co-Founder of NYC based In It For Life Productions. In It For Life has produced 11 choreography showcases and original productions Off-Broadway and 17 dance workshops across the country since its inception in 2007, which have featured some of the industry's most sought after choreographers, educators, and dancers.
Garrett will teach the following classes via the adult drop-in program. Cost is $17, and class packages apply.
10/19 | Inter. Jazz, Thursday, 6:30-8 pm

10/24 | Intermediate Tap, Tuesday, 6-7 pm

10/24 | Advanced Tap, Tuesday, 7-8 pm
Garrett will also teach Freestyle for kids on Friday, October 20th.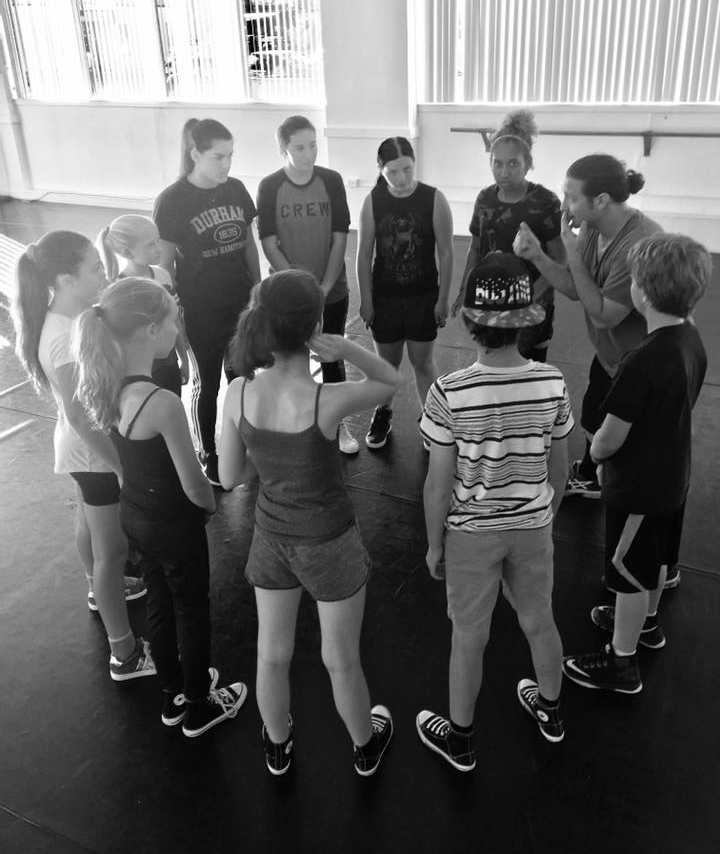 About Garrett:
Garrett "Spaghetti" Minniti found his happy feet on stage at the age of 8 singing and dancing with the West Coast Musical Theatre Co and by age 10 he was performing all over southern California. By the age of 14 it was clear that dance would be his lifestyle and career. His ever present smile, charm, and passion were methodically trained while performing with numerous song and dance troupes, competitive dance teams, and main-stage musicals at the Orange County High School of the Arts and West Coast School of the Arts. After less than a year at UCLA's School of Theatre, Film & Television, Garrett hit the road when he was cast in international tap dance sensation Caution: Men at Work Tap, and soon after jumped to tours of Broadway's SWING! and 42nd Street, spending a combined almost 6 years on the road. Other credits include Mike (A Chorus Line), Danny (Grease), Cosmo (Singing in the Rain), The Great American Songbook, Starring Ed Ames and Carol Lawrence (Branson, MO), COTTON 'fabric of our lives' commercial with Camilla Belle, and the world premier production of GIDGET, A New Musical written and directed by Francis Ford Coppola.
In 2013, Garrett and business partner Ahkai Franklin debuted The Breakthrough Outreach & Performance Co; an international outreach & performance company that addresses culturally relevant issues through original theatrical works, brings arts education to areas in need, and raises money and awareness for various causes and charities. Also in 2013, Garrett created Tap Worx, a 6-minute atmosphere tap dance extravaganza for Universal Studios Hollywood; which is to this day the only weekly running LA based tap dance show and has been met with rave reviews! Other choreography credits include multiple performances with Sybarite Artist Development Collective (SADC) including Love is Love Artists Showcases and the Sybarite Hip Hop Fashion Show (2006-2010), Equity Fights Aids Fundraiser Showcase (2003), My Way (3LB Dinner Theatre, 2006), Carnival (NYC, 2007), A Night With The Stars – Fred Astaire Tribute (Warner Brothers Studios, 2011), and a benefit concert for Stand Up to Cancer (2013).
Garrett takes great pride in being an educator and has been teaching, choreographing and adjudicating for many dance studios, schools, conventions, competitions, universities and festivals for over a decade. Highlights include The EDGE Performing Arts Center in Los Angeles, CA; STEPS on Broadway in NYC, Cal State University Fullerton, Orange County High School for the Arts, Showstopper National Talent Competition, Showtime Dance Promotions throughout Western Canada and The Source Dance Co in Vancouver, BC.
Garrett is also the co-artistic director of MPower Dance Workshops, an dance convention experience focused on connecting the disciplines and habits learned in the dance studio to finding success in life out of it. Currently MPower and In It For Life are working together to create Flash Mob performances nationwide to promote STOMP Out Bullying, the nation's largest anti-bullying campaign.
When not in the dance studio, in front of the computer or on a plane, this proud Italian American enjoys cooking, taking "triple D" road trips with his beautiful wife and daughter, running, writing, playing Wii, and watching Anime.
"Sometimes in life when nobody answers the door, you just have to knock down a wall."
— Garrett "Spaghetti" Minniti & Ahkai Franklin (2007)