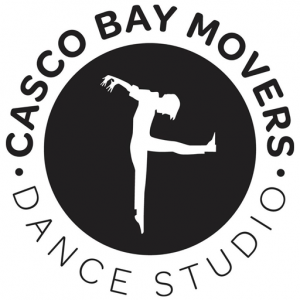 Season 39 is underway, and though this year looks a little different from those of the past, we are more determined than ever to share our love of dance and community with you in the safest manner possible.  Casco Bay Movers Dance Studio has been a leader in diverse dance education in Maine for almost 40 years.  We are proud to provide quality training to all movers ages 2 through adult.
All classes will be offered on the 2020/2021 schedule in the studio with limited enrollment and via Zoom synchronously.   If a student cannot participate in person at any time, they can  Zoom and not miss a class.  Separate registration is not required.
View schedules and register via the links below:
Young Dancers Schedule (2-7 years)
Children & Teen Schedule (6-18 years)
Winter/Spring Adult Dance Schedule
We are happy to assist with class placement and registration or schedule a private tour of the studio.  Call, visit or email us during our
Office Hours:  Monday through Thursday, 9 am – 1  pm
207.871.1013 | info@cascobaymovers.com
Below are a few of our policies and procedures we have been implementing to keep everyone as safe as possible.  Read more here: CBM's COVID Safety Protocols
Class sizes will be limited and start times staggered to promote physical distancing and sanitize high tough surfaces, including dance floors between classes.
Improved ventilation, mask-wearing, and screening policies have been put in place.
Hand sanitizing stations located throughout the building.
All classes will also be offered on Zoom for as long as needed.
Limiting traffic in the lobby:  One caregiver per student ages 3-7 may escort their dancer.  Students ages 8 & up may be dropped off and picked up at the door.
Casco Bay Movers does not discriminate by gender, color, national origin, religion, sexual orientation, or creed.  This is expressed in equal opportunities for participation and involvement.  We believe in a diverse world and know that our community is stronger when our doors are open to all.