CBM Online Classes and Studio Updates
 
September 1st update:
Fall classes begin on September 9th.  Have you registered yet?  Here are just a few of the ways we are working to keep our community safe:
Smaller class sizes
Staggered start times
Mask wearing at all times
New handwashing station in the lobby
Sanitizing stations located throughout the building
Studios are marked for physical distancing
The lobby is closed to parents and siblings. (Dancers 7 & under may be dropped off/picked up from the lobby by one caregiver only please.)
All classes are offered online synchronously.  Please Zoom from home if you answer yes to any of the screening questions: 

Have you had a cough or sore throat?

Have you had a fever or do you feel feverish?

Do you have shortness of breath?

Do you have new loss of taste or smell?

Have you been around anyone exhibiting these symptoms within the past 14 days?

Are you living with anyone who is sick or quarantined?

Have you been out of the state within the past 14 days?  Exemptions: CT, NY, NJ, NH, VT

Increased ventilation – Dress in layers!
Two, full-year, need-based scholarships are available for the 2020/21 season.  Applications are due September 5th.  2020/2021 Sponsorship Application.  Applications and supporting documents are required for consideration.
Portland Youth Dance Company & Crew will hold auditions on Saturday, September 12th.  For more information visit portlandyouthdance.org 
August 1st update:
Fall 2020:   The 2020/2021 schedule has been posted and enrollment opens on August 3rd.  We will be offering classes online and in-person synchronously.   Class times are staggered, and enrollment limited to ensure plenty of space for physical distancing.
Camps:  We just wrapped up a lovely week of Danceimagination & Hip Hop Camps.  Each group was assigned a home base studio with their very own dance space, and all camps received craft and dance prop bags to use for the week and then take home to keep the dancing going!  There was plenty of time in nearby Longfellow Park and all windows and doors were open in the studios to maximize ventilation.  We can't wait to welcome our next group of campers the week of August 24-28 for Dance Camp (ages 7-11) and Dance Intensive (12& up)
Teen/Adult drop-in classes:  Classes are offered online and in-studio with reduced numbers, ample ventilation, mask-wearing, and sanitization stations throughout the building.  Shoot us an email, info@cascobaymovers.com for Zoom links or to join an in-person class!
*Intermediate Hip Hop with Elizabeth moves to  Payson Park – Mondays 6:30-7:30 PM August 3-24*. This class will also be offered on Zoom.
Dance Can Happen Anywhere – 2019/20 Recital on Screen – Monday, August 10 – Saco Drive-in – reserve your spot through noon on August 10th via the link below:
Click here to reserve your spot at the drive-in!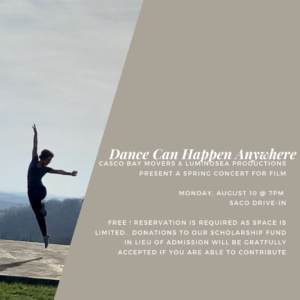 July 1st update:
CBM presents the premiere of "Dance Can Happen Anywhere," a spring concert for the film on Monday, August 10th at the Saco Drive-in.
Tickets now available. Gates will open at 7 PM and the screening will start at approximately 8:25 PM.  Bring your appetite! Mainely Hot Dogs Food Truck will be on-site with lots of tasty treats for purchase.
Space is limited. Reserve your ticket early (one per vehicle.) There is no ticket fee, however, if you are able, donations to CBM's need-based scholarship program will be gratefully accepted! CBM is hoping to provide a minimum of 2 scholarships for the 2020-2021 season. Suggested donation $15-$25 per vehicle.
Spring Concert Videos:  Casco Bay Movers and Portland Youth Dance concert videos are available for purchase via Luminosea Productions. All orders will be shipped directly to your home. All video inquiries should be directed to Luminosea Productions, luminosea@gmail.com.
June 7th Update:
Recital class families:  Please check your email for the 2020 Performance Packet which includes detailed schedules and procedures. The information can also be found on the bulletin board located on the homepage of your parent portal.  Click here to login
A final costume pick-up day has been added.  Swing by the studio on Tuesday, June 9th between 3-6 pm.  We kindly ask that you stay in your vehicle, pop your trunk and call the studio, 871-1013. We will deliver the costume(s) to you with no contact.
May 20 Update:
Please note that classes will not be held on Memorial Day, Monday, May 25th.  
Recital class families:  Check your email for important information regarding costume pick up days and performative experiences for the dancers to wrap up this season with a celebration of perseverance, ingenuity, and hard work.  We are so proud of our dancers!  The information can also be found on the bulletin board located on the homepage of your parent portal.  Click here to login
May 14 Update:
Please note that classes will not be held on Memorial Day, Monday, May 25th.  
Recital class families:  Stay tuned for an email update next week regarding costume pick up days in early June.  We also hope to share more about a performative experience for the dancers to wrap up this season with a celebration of perseverance, ingenuity, and hard work.  We are so proud of our dancers!
Previous messages: 
April 20 – 25 – April Vacation Week – Online Classes are Running
Dear CBM families,
This is a friendly reminder that we will be holding classes during the previously scheduled April school vacation week, the 20th – 25th, as a make-up for the week we were closed in March to transition our classes online.  We will hold our virtual Spirit Week with a "Chose Your Own Adventure " theme.  Dancers can dress in old costumes, pajamas, wackiest outfit/hair or dress like their favorite character or superhero! Have fun and make sure you can safely move in your chosen outfit.
Class recordings are uploaded each week into the Parent Portal.  To locate the files click "More" at the top of your homepage, and choose "Documents and Files" from the menu.  Class recording and recital tutorials will be available in the class files folder, and recital music is located in the class music folder.
Recital updates:  We are still working toward a recital and closely following CDC guidelines as well as state and local governance for recommendations on best practices once reopening begins.  We will share updates as we have more concrete information.  We will practice social distancing throughout the month of May, during which time we will continue with distance learning via Zoom and recital preparation. The last day of the 2019-2020 season is Saturday, June 20th.  We have been working on safe alternative recital plans which could involve rescheduling to later this summer,  live streaming the dances or performing in an open-air venue.  In the event of a rescheduled performance,  dancers will have access to their music and videos to practice and we will hold a review class to bring everyone back up to speed.  Our goal is to honor the incredible dedication, work, and talent of our students in the safest way possible.  We are so very proud of the perseverance and grit that our students have demonstrated over the last month.  The dance studio is so much more than a place to experience a physical practice.  It is a community and connection to those that share a common passion.  How fortunate we are to be able to continue this, even if it is remotely for now.   As small business, we are so very grateful for the continued support of our CBM families.  We will get through this together.
Summer:   At this time summer camps that are scheduled for late July and late August, and drop-in classes are not canceled.  We will follow state and local governance and update as we are able.
Previous messages: 
March 23, 2020 Update
CBM is moving online!
What a joy it has been for us to see our dancers moving together online last week!  We will continue to use Zoom to provide your dancer's class(es) through April 28th as recommended by the state CDC.  We will reassess at the end of April. Until then, you can access your dancer's class(es) via Dance Studio Pro which is our online parent portal. On your home page, your dancer's class will be listed. Click on the video camera button to start class during your dancer's normal class day/time.  View a tutorial here:   Accessing your class link through the parent portal.
Please let us know if your dancer has to miss class for any reason and your teacher can easily record class so your dancer can practice at their convenience! Prior to your dancer's first online class, please take a moment to review and agree to our online class waiver. In addition, we will be uploading performance music to the parent portals for every class participating in our Spring Concert! Yes, we are still working toward our Spring Concert scheduled for June 20th. 
Please email Kate, info@cascobaymovers.com, for help accessing your parent portal, Zoom class link, or just to say hello! 
Our studio goal is to continue to provide our students with a sense of normalcy, a great workout, and hope for the future as we continue to prepare for our annual end of year Spring Concert!
Tips for taking a class online: 
*Find the largest, open space in your house that ideally has hardwood or laminate flooring. Dancing on carpet or on cement in a basement is not ideal but will work in a pinch
*Treat online classes as you would at the studio by having your dancer in class attire with hair secured back. 
*Be sure to have a water bottle handy.
*Have a chair available to act as a Ballet barre for Ballet classes levels 1 and up.
*Tap dancers make sure you have a parent-approved space to Tap. Tap shoes will damage most residential flooring. A piece of plywood or a flattened cardboard box can work well. Dancers can also Tap barefoot or in sneakers if need be.
*Using Zoom: be sure to have your speakers and camera on. To make a teacher larger, change the view at the top right corner of your screen by "pinning" your teacher's feed. Dancers will be on mute for most of the class to avoid sound interference. If your dancer has a question have them wave into the camera and your teacher will unmute your dancer to hear their question.  Accessing your online classes through your Parent Portal
*Always be safe and smart while dancing. If you have an injury, let your teacher know before class starts.
Tuition/Financial Assistance: 
All tuition will continue to be collected electronically each month via Dance Studio Pro. Our goal is that every dancer can continue dancing during these stressful and uncertain times. Should your family need assistance due to job loss, please reach out to the studio via email (info@cascobaymovers.com) immediately. We can get through these hard times together!
Keep dancing, be healthy and we will see you in class!
Kate, Elizabeth, Rachel, Elly, Allie, Amanda, Vanessa, Emily
Click here to see a video message from some of your wonderful teachers!
Previous messages: 
March 15, 2020, Update
Dear CBM Families,
We wanted to send an update on classes, events, and performances here at CBM. In the interest of the safety of our dancers, staff, and community at large, we will be closed Monday, March 16th –  Sunday, March 29th. We will update all CBM families on Sunday, March 29th to confirm our opening day. Ultimately, we will go with the CDC and state recommendations on how to safely proceed forward in reopening the studio. Please read below our game plan to transition to offering online courses over the next couple of weeks. Our goal is to provide all our students with stress relief through dance and a sense of normalcy.   
We will be working remotely, and one at a time at the studio as needed. Please feel free to reach out with questions or just to say hello via email: info@cascobaymovers.com or leave us a message at 207.871.1013.  
After you get some fresh air and vitamin D, you may enjoy some dance videos.  PBS is an amazing resource! https://www.pbs.org/search/?q=dance
Our friends at Collective Motion Arts Center recorded a yoga class with CBM faculty, Rachel Schwartz.  You can view that here at your leisure to take down stress levels and move those bodies. https://www.facebook.com/collectivemotionartscenter/videos/220127556061493/
We are so very grateful for the kindness and generosity that has been displayed over the past few weeks by our community. We will get through this together.
Stay safe and healthy,
❤️ Kate and the CBM team
Week 1 (March 16th -22nd)
This week will now become our April Break, therefore we will not be holding formal classes. Regularly scheduled classes will instead be offered during the previously scheduled April Break (April 18th-April 23rd)  Our faculty will be taking time this week to learn how to transition classes online,  uploading recital music and videos to parent portals, and continued class and recital planning.  
Week 2 (March 23rd – 29th) 
During this week we will be offering our usual class schedule via Zoom or private Youtube links which will be sent to students via your Parent Portal. We ask that students take the first week to figure out a safe space to dance at home. We recommend that dancers dress in their attire just like you would at the studio. Have dancers pack all the usual items: water bottle, dance shoes, etc.  We recommend dancing on hardwood or linoleum before carpet. These classes will run in a similar format to what we always do: warm-up exercises, stretch, across the floor patterns, and continuing choreography for our end of year performance. 
Tuition & Make Up Classes
All March late fees will be lifted. If you still owe March tuition please consider paying as soon as you can. All of our teachers are paid hourly and we plan to continue to pay our teachers, office and janitorial staff.  If you missed class this past week, remember our make-up class policy. Dancers can take a future class in any style at the appropriate level and age group. We are always happy to help find the best class to make up in so please reach out.  Additionally, we will be offering make up classes during April break! 
 End of Year Performance 
Our June 20th show is not postponed.  Our goal is to have our end of year performance music for each class available to our families by Monday, March 23. You will be able to access the links via your parent portal under shared files -> class music. This way our dancers can successfully practice their dances anytime! Have dancers remember: what is their dance about, what the mood is and what the sequence of steps is.