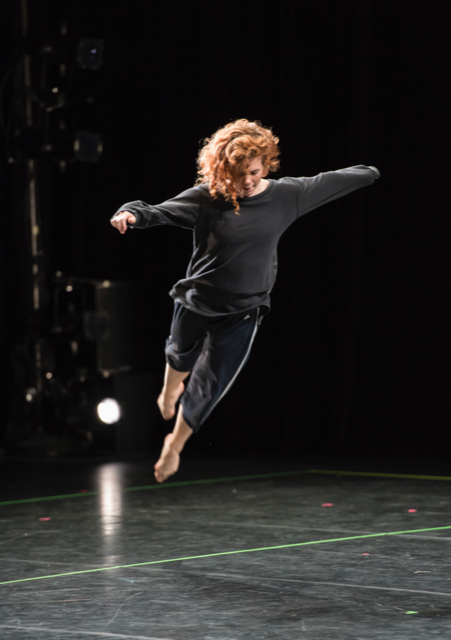 Contemporary Forms with Jenna Riegel! Saturday, June 3 | 10:45 am – 12:15 pm
$18/$15 for college students or a card punch
Jenna Riegel, a native of Fairfield, Iowa, has been a New York-based dancer, performer, and teacher since 2007. Jenna holds an M.F.A. in Dance Performance from the University of Iowa and a B.A. in Theatre Arts from Maharishi University of Management. Since moving to NYC, Jenna has performed with Daara Dance (choreographer Michel Kouakou), Carolyn Dorfman Dance Company, Shaneeka Harrell, Tania Isaac Dance and johannes weiland. She has also toured and performed nationally and internationally as a company member of David Dorfman Dance, Alexandra Beller/ Dances and Bill Young/ Colleen Thomas & Company. In 2011, Jenna joined the Bill T. Jones/Arnie Zane Company. Jenna teaches classes in Contemporary Technique in New York City at Gina Gibney Dance Center, Mark Morris Dance Center, 100 Grand Dance and Barnard College, as well as Contemporary Partnering at The Juilliard School. In addition, she has taught master classes at The Joffrey Ballet School, Columbia College, NYU, The New School, Ohio State University, SUNY Purchase, Bard College, Connecticut College, Emory College, Arizona State University, Brigham-Young University, Dartmouth College, Williams College, Skidmore College, LIU, University of Maryland, University of Nebraska-Lincoln, University of Wisconsin-Madison, University of California-Berkeley, University of Iowa, the American Dance Festival and the Bates Dance Festival. Jenna is currently a Visiting Guest Faculty at Virginia Commomwealth University.
Contemporary Technique Class Description
Class will begin with floor work, yoga and pilates stretching and strengthening and improvisation to build warmth, ease us into motion, find agility and help us arrive more fully present in our bodies. Introductions to one another will be made with a name circle, contact improvisation exercises or interactive warm-up exercises in order to build a sense of trust and community together. Center standing work will draw upon a combination of release technique and ballet and align, balance and increase awareness of energetic efficiency and ease. Head/tail exploration and spinal articulation will be integrated into more traditional foot and leg exercises. Across the floor phrase-work will oscillate between imagery and task-based veracious improvisational scores and rigorous locomotion, athletic inversions and ambitious lofting. A culminating phrase will challenge the polarities of movement and investigate both off-balance and centered movement, bound and released, sustained and staccato, momentum driven and spatially controlled, on the floor and in the air, and sensation-based and shape-based movement. A friendly, uplifting, non-judgmental class culture will be attended to by steering clear of the binary of right and wrong and instead directing attention to cause and effect, the action and results of our choices.  Personal findings will be encouraged to be shared to expedite learning within our community. Individualism will be honored and upheld even as profound body awareness and ability to replicate outside material is practiced. Enjoyment and fun will be contagious and inevitable!