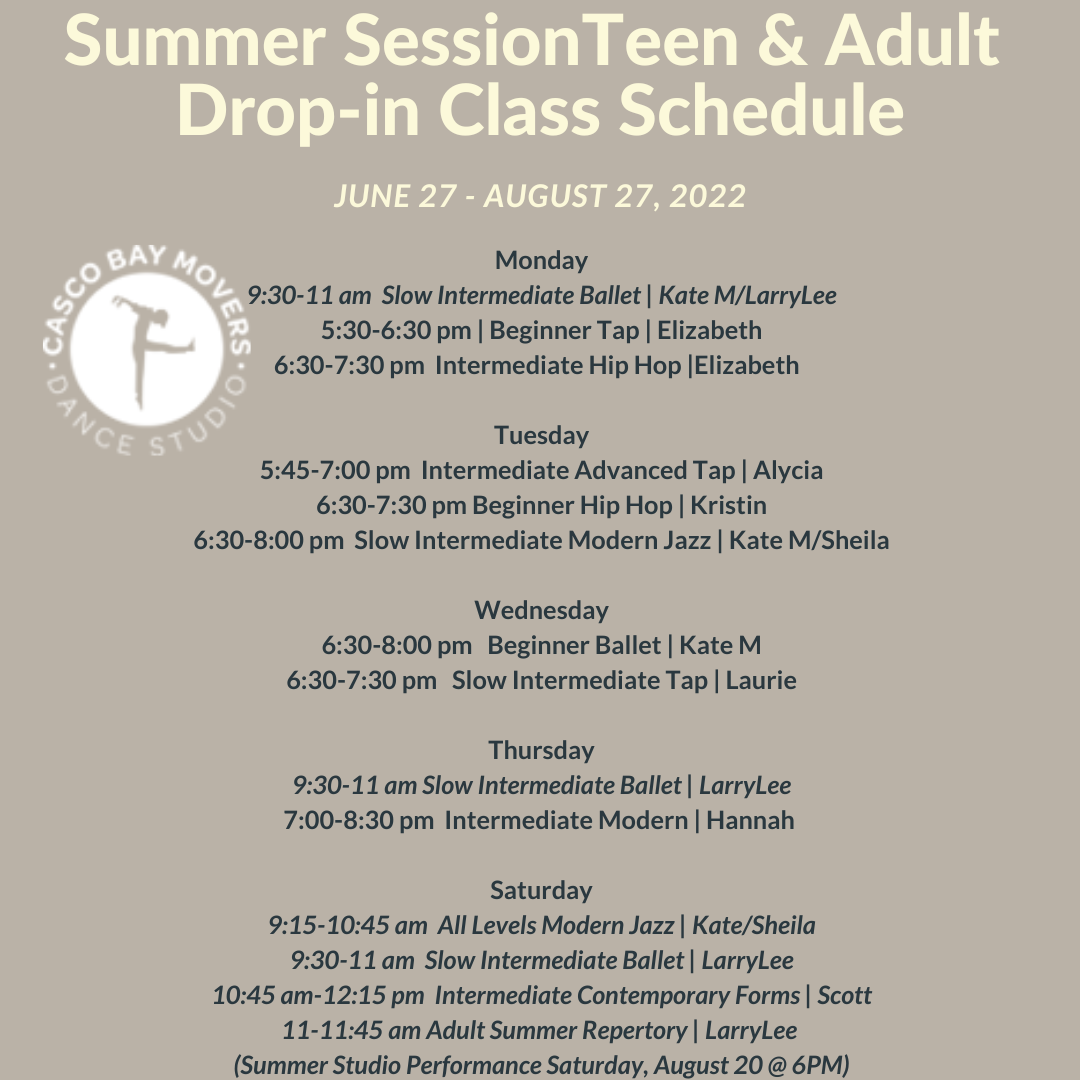 You are welcome to drop into a class at any time it works for you!  If you have never been to the studio before we recommend you create a profile through our registration system to save you time at the studio: Register here
All ballet classes are offered in the studio and online synchronously. 
Class Fees:
single class…..$18                                                college student/senior 65+……$15
in-studio 10 class card……$160*                  college student/senior 65+…….$150*
online 10 class card…….$130
New to CBM? Try our welcome class pack, 4 classes for $50 (4-week expiration applies. One-time use only.)
Repertory Classes:
Repertory classes are designed for adult dancers interested in deepening their dance practice through the process of learning a choreographic work for performance.  Participation in repertory classes requires students to take the class preceding the repertory class.  Repertory classes will focus on choreography only.  Technique and proper warm-ups will be provided in the supporting classes.  Prioritizing attendance for weekly technique and repertory class meetings, dress rehearsal on Friday, June 17, and performance on Saturday, June 18 is required.
Intermediate Hip Hop Repertory with  Elizabeth Lau | Mondays, 7:30-8 PM beginning March 28 & one, sixty-minute rehearsal on a Monday ($150) Dancers must take Intermediate Hip Hop from 6:30-7:30 pm in order to participate.
Advanced Tap Repertory with  Alycia Miner | Tuesdays, 6:45 – 7 PM beginning March 8 & one, sixty-minute rehearsal on a weekend TBD ($125) Dancers must take Int/Adv Tap from 5:45-6:45 pm in order to participate.
Intermediate Contemporary Modern Repertory with Emily Getchell | Tuesdays, 8:15-9 PM beginning April 12 ($175) Dancers must take Slow Inter Modern Jazz from 6:45-8:15 pm in order to participate.  
Intermediate Tap Repertory with Laurie Chiasson | Wednesdays, 7:45-8 PM beginning March 23($80) Dancers must take Slow Inter Tap from 6:45-7:45 pm in order to participate. 
We are asking that all students wear a mask while in the building, regardless of vaccination status.  Thank you for your support which will help us continue to share precious time and space together!
Casco Bay Movers does not discriminate by race, gender, national origin, religion, sexual orientation, or age.  This is expressed in equal opportunities for participation and involvement.  We believe in a diverse world and know that our community is stronger when our doors are open to all.