COVID Safety Protocols: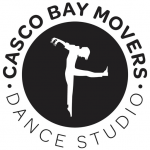 Thank you, dancers and families, for so diligently following our safety guidelines!  We are so happy to be moving together again in the studios, and we are so impressed with how quickly everyone has adapted to the protocols. We are closely monitoring the Covid-19 case counts and updating our policies and procedures in line with Maine CDC guidelines. Our protocols can be found below.  Please reach out to us with any questions or concerns: info@cascobaymovers.com, or 207.871.1013.
Masks covering both the nose and mouth must be worn at all times. Classes will be paced to allow for acclimation to mask-wearing
Dancers must wash hands or use one of the many hands sanitizing stations when entering and exiting the building.
 Ventilation:  Windows will be open in each studio, and doors to the lobby will be open.  Dress in layers as the temperatures continue to drop!  Both HVAC and air purifiers are running in all studios.
Outside shoes are not permitted beyond the mats in the lobby.  Please remove your shoes and carry them to your cubby.
Travel:  Per Maine CDC guidelines, dancers traveling out of state must provide a negative Covid-19 test result within 72 hours of returning to Maine or zoom for the 14-day quarantine before returning to the studio.  Please note that New Hampshire and Vermont are the only states currently exempt from quarantine. 
The lobby is closed at this time.  Dancers age 8 and under may be accompanied in and out of the building by a caregiver.  Dancers aged 9 and over should enter the building independently and meet their caregiver in the lobby entrance's alleyway.
Cleaning: Floors and high touch surfaces will be sanitized after each class, and the studio is deep cleaned 4x per week.
As we move deeper into fall and cold/flu season, we appreciate your care in keeping our space safe.  Please stay home and join us via Zoom if you or a member of your household are experiencing symptoms.   To access your online class, log in to your parent portal, click the video camera icon in the upper right corner, and follow the prompts.  Please log in to your class a few minutes ahead of time, and your teacher will admit you from the waiting room.  Treat class at home as if you are in the studio by creating a safe, clear space to move in and following the dress code.  Here are some tips for maximizing your home experience:  Zoom Class Troubleshooting
Thanksgiving Break:  We will not be holding classes Wednesday, November 25 – Saturday, November 28. (Per CDC guidelines, if you are traveling out of state, we require that you Zoom for the 14-day quarantine period or provide a negative test result within 72 hours of returning to Maine.  At this time, the only states exempt from the quarantine are New Hampshire and Vermont.)
Please answer the COVID screening questions below before coming into the studio.  If you answer yes to any of the following questions, we invite you to join us online instead.   Links for online classes are located on the homepage of your registration portal.
Have you had a cough or a sore throat?
Have you had a fever, or do you feel feverish?
Do you have shortness of breath?
Do you have a new loss of taste or smell?
Have you been around anyone exhibiting these symptoms within the past 14 days?
Are you living with anyone who is sick or quarantined?
Have you been out of the state in the last 14 days? (Exemptions:  NH, VT)