COVID Safety Protocols: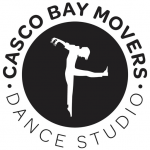 Thank you, dancers and families, for so diligently following our safety guidelines! We are closely monitoring COVID-19 guidance from Maine CDC and updating our policies and procedures accordingly. Our protocols can be found below.  Please reach out to us with any questions or concerns: info@cascobaymovers.com, or 207.871.1013.
Please answer the COVID screening questions below before coming into the studio.  If you answer yes to any of the following questions, stay home and we will set up a make-up class or classes for your dancer.
Within the past 24 hours have you had a fever or used fever-reducing medication?
Do you feel sick, had a cough, congestion or a runny nose, body aches, vomiting/diarrhea, fever, chills headache, cold symptoms, sore throat, a new loss of taste or smell, or felt unwell?
Have you been asked to quarantine due to COVID-19 exposure?
Click the link below  for CDC recommendations for information for those who test positive:
Click the link below  for CDC recommendations for close contacts:
COVID-19-Quarantine-Flow-Chart
Studio Safety Protocols:
Masks are required for all students regardless of vaccination status due to the risk of community spread of the Delta & Omicron variants. (Well-fitting, surgical masks or similar are recommended over cloth masks.  Pack extra masks to ensure you always have a clean and dry mask covering your mouth and nose!)
Dancers must wash hands or use one of the many sanitizing stations when entering and exiting the building.
 Ventilation:   We are using our HVAC system and air purifiers, as well as opening windows and doors as appropriate to maximize airflow. Wear layers as temperatures drop.
Please stay home if you or a member of your household are experiencing symptoms.   Dancers will have the opportunity to make up missed classes due to quarantine as needed.  Make up classes due to vacations or other planned absences, etc. are not available at this time.
The lobby is closed at this time.  Dancers age 7 and under may be accompanied in and out of the building by a caregiver.  Dancers aged 8 and over should enter the building independently and meet their caregiver in the lobby entrance's alleyway. (The lobby is visible from the alleyway) Outside shoes are not permitted beyond the mats in the lobby.  Please remove your shoes and carry them to your cubby.
Cleaning: High-touch surfaces are cleaned between each class.  Dance floors and common spaces including restrooms are cleaned & sanitized daily